The first complete family product line of its kind, the Essence Inserts Collection redefines the aircraft galley experience. Consisting of ten individual products with a single design language including a steam oven; convection oven; bun warmer; beverage chiller, refrigerator and freezer; SCS connected chiller, refrigerator and freezer; beverage maker; espresso maker; water boiler; and hot cup the Essence line of products is intended to harmonize with one another and promises an unmatched end user experience. The collection's design, cost and easy-to-use features make it the ideal galley solution, meeting the demand for long-term value while offering meaningful innovation to end users.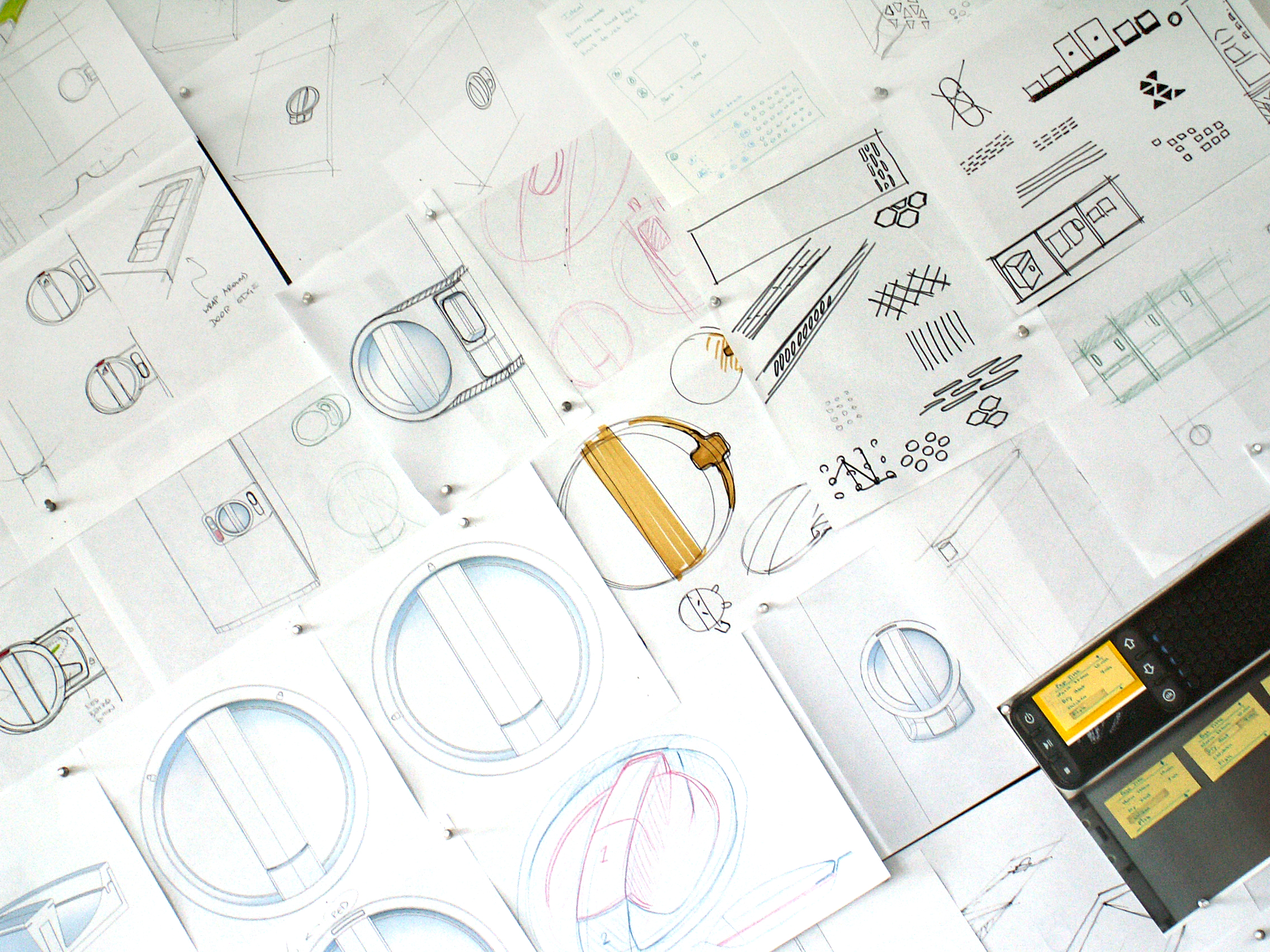 The B/E Aerospace Advanced Lavatory is described as first lavatory designed from the ground up to accommodate additional passenger seating without sacrificing comfort. The Spacewall technology, Teague says, frees up seven inches of cabin real estate, allowing airlines to add up to six economy class seats without impacting passenger experience.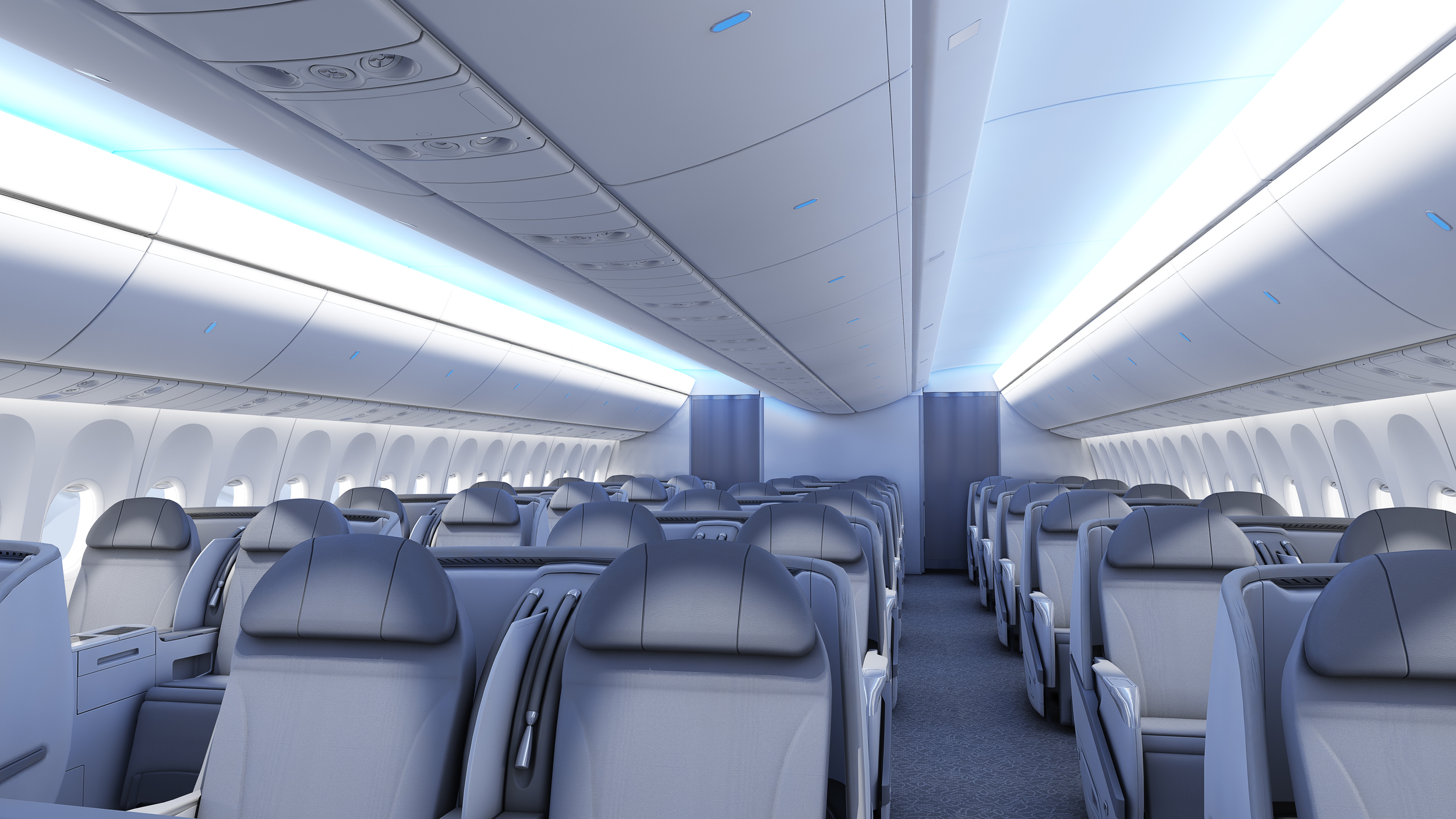 The intent for this conceptual 777 interior was to provide a set of modular interior components that brought the Boeing Sky Interior to the 777. This concept pre-dates the 777x interior. This interior utilizes the same pivot bins and PSU panels on center as on the outboard to save on cost and maintenance. However the true genius of this concept is the clever integration of the ECS and safety equipment into the inboard and outboard valance cavities to provide a clean and uninterrupted ceiling panels. This accentuates the sky effect of the lighting with great efficiency. The shape and style of the interior reflects the BSI family with also providing efficient canvas for the cabin lighting.
This is a conceptual business class seat design. The emphasis of this design is to bring the experience of business class closer to that of your favorite hotel. The process and anticipation of entering the hotel and navigating to your own room is matched with this unique seating arrangement. Each seat has it's own foyer and unique access point. This layout eliminates step-over, and disturbance between passengers.
The 777 Blended Ceiling is an elegant solution to a premium class interior without sacrificing the convenience of a flight crew rest. The overhead flight crew rest (OFCR) is located above the first class main cabin and impacts the IML. This solution integrates the profile of the center bins with a no bin interior while accommodating all the configuration options within one tool.
This unique entryway to the 777 interior provides a welcoming and enticing experience. This entryway ceiling boasts original contours and lighting effects that enhance the initial on-board welcome without negatively impacting the vast flex zone of centerline monuments and galleys. American Airlines is currently flying a version of this entryway.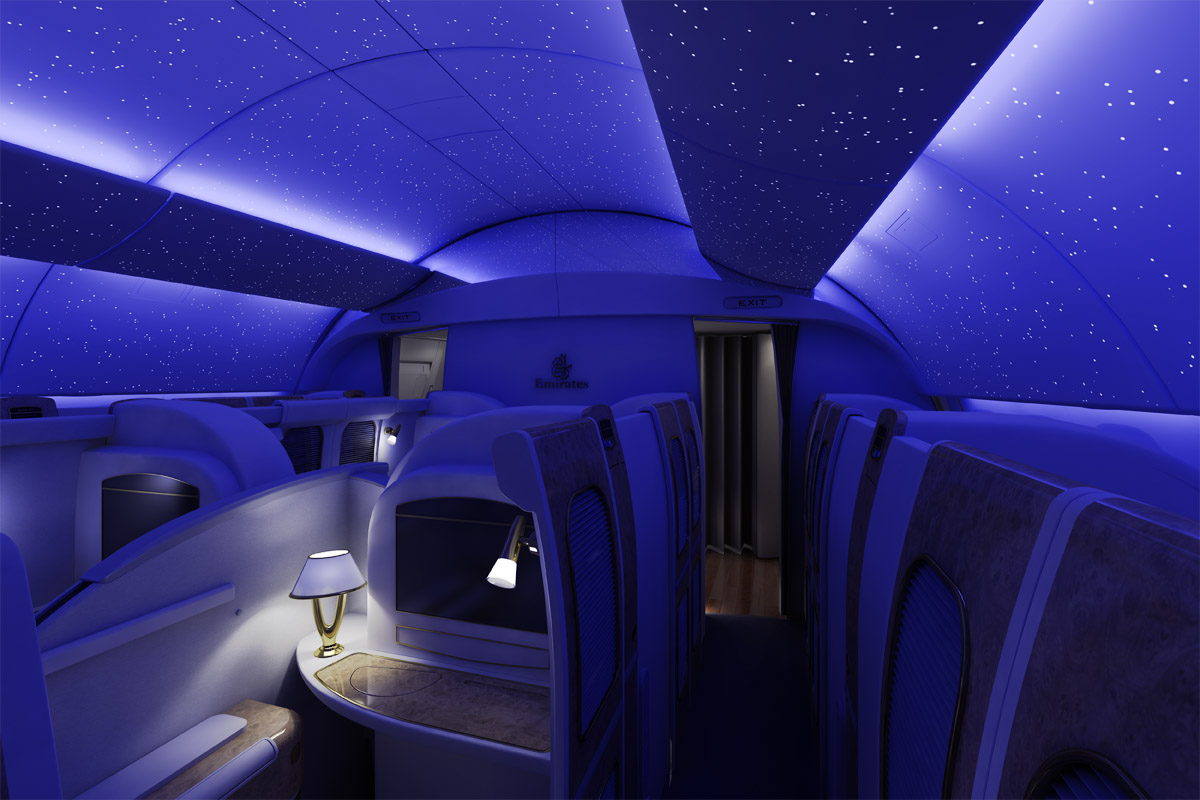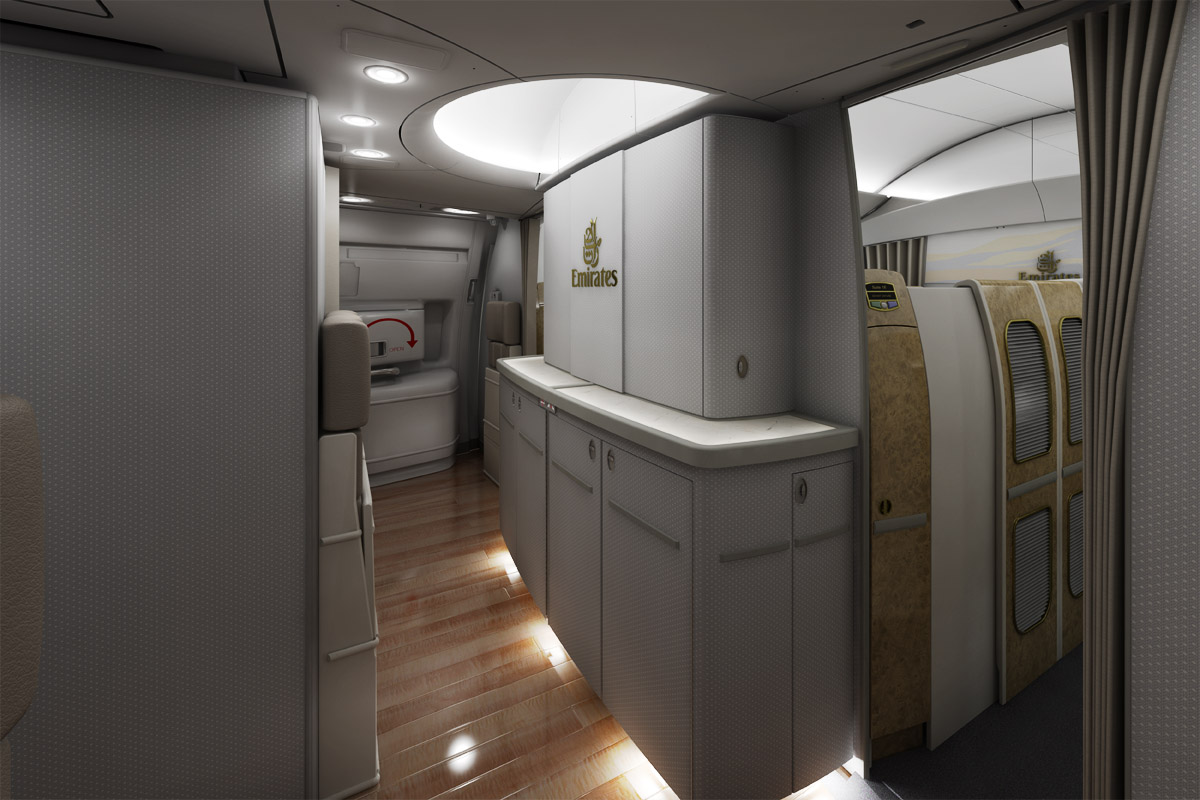 Emirates' 777 first class cabin boasts 3-meter ceilings and lighting that transitions from dawn to dusk, including a starry night sky with constellations and a unique bar unit.